Keynote: The Larry Wells Memorial Lecture 2016
Friday, April 15, 2016, 5:00 p.m. -- Engineering and Science Building, room 2008
"This Migration Which Is Not One:
Refugees, Migrants, and (Turkish-)German Studies"
Yasemin Yildiz, University of Illinois
With its fast changing shape and resonance, the current "refugee crisis" in Europe highlights the significance of the challenge of migration to German culture, society, and politics. Whereas the transnational labor migrations of the 1950s and 1960s were long seen as temporary phenomena and thus considered peripheral to the country's self-definition, today's refugee migration is squarely at the center of public attention and widely recognized as a transformative issue for contemporary Germany, even as its outcome is far from clear. Taking this shift in conceptualizing the place of migration as a starting point, this talk will reflect on the nature and implications of these developments for German Studies. In particular, it will revisit Turkish-German studies as one of the main fields under whose heading migration to postwar Germany has been considered. Through consideration of contemporary cultural and political interventions as well as the archive of Turkish-German literature, I will argue that Turkish-German studies has much to offer at this moment, but that it will also need to undergo revision as a result of current cultural shifts.

The Larry Wells Memorial Lecture
Named in honor of Larry Wells, esteemed colleague and Professor of German at Binghamton University, State University of New York, from 1970 to 1998, this lecture series is made possible by the generous support of the Wells Family and Binghamton University alumna Doris Braun. The annual Larry Wells Memorial Lecture brings nationally and internationally recognized scholars in German Studies to the Binghamton University campus. The Wells Lecture highlights the work of the Binghamton German Studies program and, inspired by Professor Wells' outstanding achievements in student-centered teaching, research, outreach and service in German Studies, builds upon the legacy of his work and his distinguished record in the profession.
Workshop
"Migration and Memory: A Workshop in Progress"
Saturday, April 16, 2016 -- Engineering and Science Building, room 2008
Yasemin Yildiz's current book project, Citizens of Memory: Migrant Archives of Holocaust Remembrance, co-authored with Michael Rothberg, explores the effect of transnational migration on cultural memory. More specifically, Citizens of Memory assembles and analyzes a wide range of memory work by Germany-based immigrant writers, artists, and activists relating to National Socialism, the Holocaust, and World War II. The interventions of the project lie in offering a new (or newly visible) archive of materials, a recalibrated account of postwar Germany that brings together memory discourses and migration history, and a conceptual rethinking of the relationship of memory and migration more generally.
Through a conversation about short excerpts of selected literary and essayistic materials that will be provided to the participants, this workshop will offer an opportunity to explore together some of the questions the topic raises and to reflect particularly on methodological issues: What are the material, institutional, and discursive conditions under which memory is shaped in migration? How does migration affect the transmission of memory? Which pasts do immigrants inherit? Which materials and archives may come into view from this angle? What is the effect of language choice, multilingualism, and translation on remembering?
While the selected examples primarily come from the Turkish-German context, participants are encouraged to introduce other examples from their own research and teaching into the conversation.
Readings for discussion:
Deniz Utlu, "Das Archiv der Migration" Freitag 31 October 2011

Excerpts from Yadé Kara, Selam Berlin, Emine Sevgi Özdamar, Brücke vom Goldenen Horn, etc. (to be provided)

Recommended reading:
Michael Rothberg and Yasemin Yildiz, "Memory Citizenship: Migrant Archives of Holocaust Remembrance in Contemporary Germany." Parallax 17.4 (2011): 32-48.
Yasemin Yildiz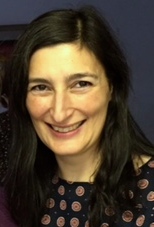 is Conrad Humanities Scholar and Associate Professor of German at the University of Illinois. Prof. Yildiz specializes in twentieth- and twenty-first-century German literature and culture with research interests in literary multilingualism, minority discourses (especially Turkish-German and German-Jewish), transnational studies, and gender studies. Her book Beyond the Mother Tongue: The Postmonolingual Condition won the MLA's 2012 Scaglione Prize for Studies in Germanic Languages and Literatures and received Honorable Mention for the 2014 Laura Shannon Prize in Contemporary European Studies. She is currently working on a co-authored study of immigrants and Holocaust remembrance in contemporary Germany together with Michael Rothberg.